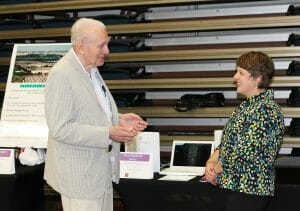 Tuesday, January 30 | 1:30 -3:30 pm
Messiah Lifeways at Messiah Village
100 Mt. Allen Drive, Mechanicsburg
Hostetter Enrichment Center located in Village Square
Join us for the Pathways Institute 2018 spring preview and reception to "kick off" the upcoming term of exciting lifelong learning opportunities planned through the Pathways Institute for Lifelong Learning®! This event will be held at the Hostetter Enrichment Center located inside the new Village Square on the Messiah Village campus on January 30, 2018.
The program will begin at 1:30 pm with introductory comments from Mr. Curt Stutzman, President & CEO of Messiah Lifeways. Instructors will then be introduced by Dr. Mark Hagenbuch, Pathways Institute instructor, and each will have an opportunity to share a brief comment about what they will be presenting in the spring. The new Pathways Institute catalogs will be distributed, delicious desserts will be served, and the registration process will begin. The program will conclude at 3:30 pm.
Lastly, in case of inclement weather, this event will be cancelled. Please check this website or the Messiah Lifeways Facebook page for updates and more information.
Please RSVP to Sharon Blouch at 717.591.7213 (ext. 2) or email pathwayinquiry@thepathwaysinstitute.org by Thursday, January 25.