Thursday, July 27, 2017 | 1:30 pm – 3:30 pm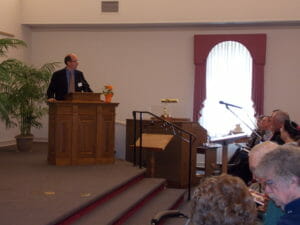 Calvary Church
1051 Landis Valley Road, Lancaster
Join us for the Pathways Institute 2017 fall preview and reception to "kick off" the upcoming term of exciting lifelong learning opportunities planned through the Pathways Institute for Lifelong Learning®! This event will be held at Calvary Church located at 1051 Landis Valley Road, Lancaster on Thursday, July 27, 2017 from 1:30 p.m. – 3:30 p.m.
The program will begin at 1:30 p.m., with introductory comments from Ms. Eva Bering, Vice President for Operations of Landis Communities. Instructors will be introduced by Reverend Richard Cook, and fall 2017 offerings will be announced. The new Pathways Institute catalogs will be distributed, delicious desserts will be served, and the registration process will begin.
The church is located within a few miles of Landis Homes, and parking accommodations are excellent. For a map and detailed directions, please consult www.calvarychurch.org. Transportation will be available for Landis Homes residents who wish to attend. Pickup locations are West Bethany and Harvest View entrances beginning at 12:30 pm. Please let Alice know if you will need bus transportation when you give your RSVP.
Please RSVP to Alice Whitman at 717.569.3271 ext. 3060 or email awhitman@landishomes.org by Friday, July 21.
---